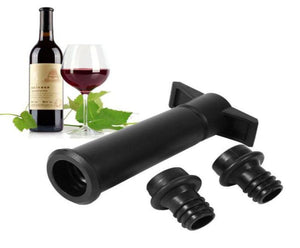 This is the type of unit commonly found in restaurants, bars & cafes around the country. It is a simple no hassle way of keeping the wine fresh for longer once the bottle is open. Reduce the negative effects of oxidation in wine that has been opened but not finished. Use the vacuum pump to remove the air and leave the bottle securely sealed to enjoy another day. Comes with two stoppers. These are based on the ORIGINAL style silicone rubber stoppers that the industry prefers but now have a valve in the stopper to prove the unit is airtight.
Features include...
Preserves Red and White wine
Easy to use
Comes with 2 original siicone rubber stoppers
Replacement stoppers available
FREE shipping!